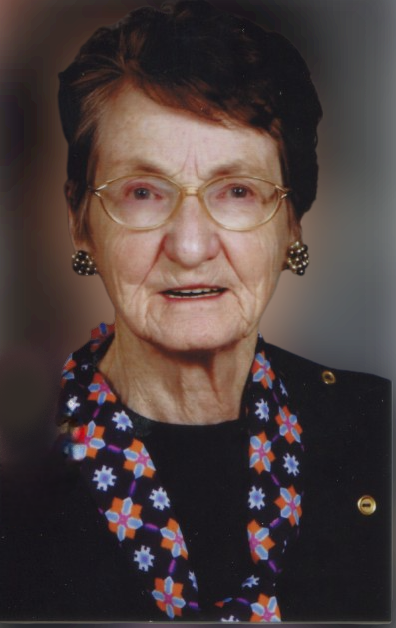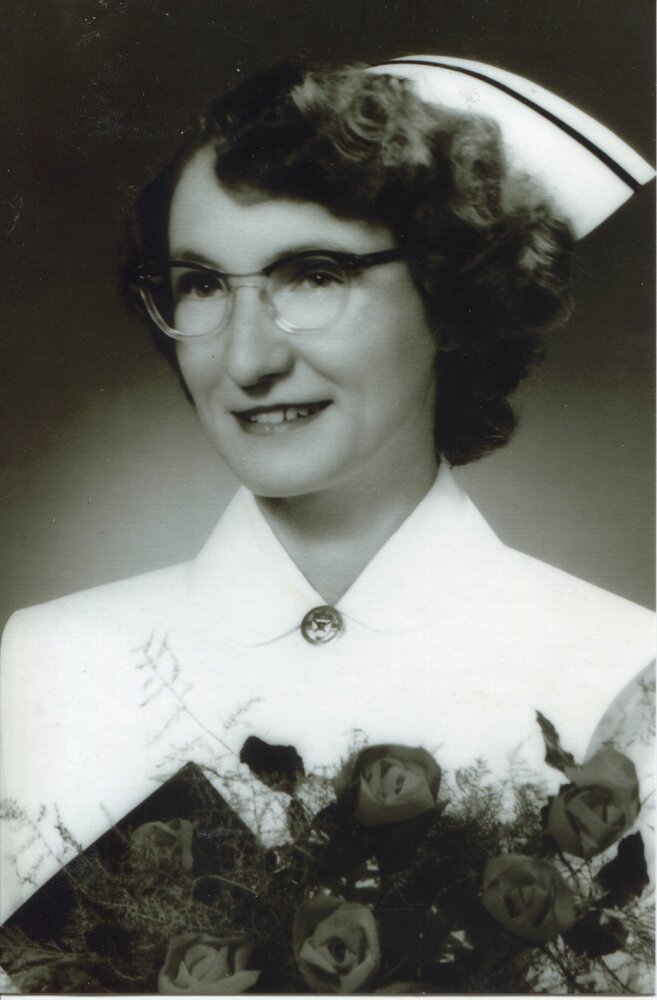 Celebration of Life
2:00 pm
Thursday, June 29, 2023
Royal Canadian Legion
207 5th Ave E
Oyen, Alberta, Canada
Celebrating the life of Alberta McKinstry

Get Directions


Obituary of Lucy Alberta McKinstry
Lucy Alberta was born November 17, 1923, at Alsask, Saskatchewan to George and Lucy Snell, the oldest of five children. She passed away on May 26, 2023.
She attended public school in Rosedale, B.C (near Chiliwack B.C.) and one room Kenmaul School, 15 miles south of Oyen, AB. She enjoyed a happy childhood on the prairie homestead at Oyen and maternal relatives' dairy farms at Rosedale, B.C.
The family moved to Rosedale in 1937 and returned to Grandfather J. Snell's homestead in the spring of 1940. The return that spring was a memorable trip due to the weather and travelling conditions.
She attended Calgary Normal School in 1943—a three-month course in wartime, taught at Merricourt, Oyen and Crowfoot Strathmore.
Summer of 1945 Lucy worked at the Terrell's Flowers in Calgary, attended Henderson Secretarial School, 1945, worked for room and board for Rev. Horace and Helen Burkholder, Crescent Heights United Church manse.
Secretarial work experience followed at Tees and Persse in Calgary. McCabe Grain Company in Brooks, Army and Navy in Edmonton, The Dell in the evenings as a cashier and waitress.
From 1948-1951 she attended the University of British Columbia. After graduation in 1951 she did secretarial work at CPR Passenger Department in Vancouver B.C for the summers.
She spent a summer at home on the farm, a winter in 1951 doing secretarial work at the Credit Office of the Royal York Hotel in Toronto and salesclerk at Laura Secord Chocolate Shops at Kind Edward Hotel in the evenings. She returned to the farm in the spring following a memorable tour of the USA by bus.
She attended St. Michael's School of Nursing in Lethbridge in 1953 and graduated in 1956. Work experience followed at the Chilliwack General hospital, the School of Psychiatric Nursing at Essonale BC for 2 years and Oyen General Hospital .
Alberta married Edward McKinstry Dec. 5, 1964, and moved to the McKinstry farm 10 miles north of Oyen. Here she became a homemaker, caring for children, the home and disabled parents.
Organizations in the community they supported were United Church, Chamber of Commerce, Agriculture Society, Historical Society, Environment-Plant watch for 8years, recycler, and the Royal Canadian Legion.
Alberta is survived by her children; David (Kathryn), Eva Linn (Philip) and Gerald, grandchildren; Kaleigh (Ross), Kassandra, Christopher and Kerry (Shane) and great grandson Beau William Eyben, brothers; Milton (Maureen), Vernon (Irene) Snell.
She is predeceased by her loving husband Edward, parents George and Lucy Snell, sisters; Estella Helfer and Georgina Terrell, brothers-in-law; Lawrence Helfer and Donald Terrell, sister-in-law Harriet Austin and daughter-in-law Diane Mortensen.
Guests are asked to wear something floral or bright. Alberta loved colour and she loved flowers.
Recording has been posted. Celebration starts around the 4 min mark. If you are watching on a mobile or tablet, you may have to turn your device sideways to access the recording.


Share Your Memory of
Lucy

MacLean's Funeral Home
114 1st Ave E
Oyen, AB
T0J 2J0