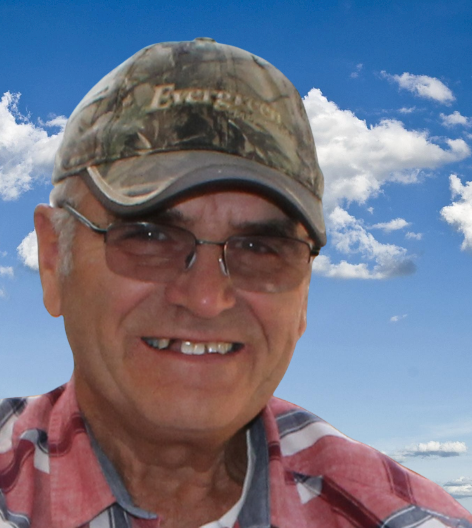 Funeral Service
11:00 am
Tuesday, February 21, 2023
C.J Peacock Centre
415 Main St
Cereal, Alberta, Canada
Funeral Service for the late Frederick Roberts

Get Directions


Obituary of Frederick Clarence Roberts
It is with sadness we announce the passing of beloved husband, Dad and Grandpa, Frederick (Fred) Clarence Roberts, in Phoenix, Arizona in February 2023. Fred was born June 22, 1950 in Cereal, Alberta to Willie and Eileen Roberts. Fred grew up on the family farm south of Cereal with his five younger sisters. From an early age he became involved in the farming operation. As a young adult he purchased his first quarter of land and started his life-long calling of being a farmer. He was active in the Oyen Flying Club which is where he met Elizabeth (Liz), the new schoolteacher in town. Fred and Liz were married in 1978 and built their home on the farm. Children William, Candace (Candy), and Susan followed.
Fred enjoyed being involved in the community belonging to both the Cereal Lions Club and the Cereal Rodeo Association. As the children grew, he followed their interests becoming an active 4-H parent. Farming kept him busy too. It gave him the opportunity to work alongside his parents, wife and later children and their families. As the third generation on the homestead he saw the farm receive the Alberta Century Farm & Ranch Award in 2015. As Fred and Liz grew the farm together they were keen to adopt new farming techniques. Fred was eager to accept new challenges, fix almost anything and modify even new equipment to make it better.
Fred enjoyed summer family camping trips and always enjoyed a good drive to see something new. As the children moved away to pursue their education and careers, Fred could be found on the road to check-in on them. Fred and Liz started to travel and enjoyed trips to New Zealand, Europe, the United States and Canada. As a couple they regularly attended Western Canadian Wheat Growers Association conventions across North America. After Candy, William and Susan each started families of their own, the title of Grandpa became his favourite. Grandpa would put everything on hold to give out tractor rides or drive several hours to be with his grandchildren. His grandchildren were very special to him.
Fred is predeceased by his parents Willie and Eileen Roberts as well as parents-in-law William and Elizabeth Lysyk.
He is lovingly remembered by: his wife Liz; children William (Crystal) Roberts, Candy Roberts (Cory Bachmeier), and Susan (James) Bakker; grandchildren Catelyn, Emma, Julia, Cazzlyn, Frederick, and Bennett; sisters Mary (Peter) Bell, Anne (Andy) McCracken, Joan Roberts, Maxine (Guy) Anderson, and Muriel (Allan) Ostenberg; brothers-in-law Sam (Marie) Lysyk, and Bill (Judy) Lysyk; numerous nephews and close neighbours.
Memorial tributes may be directed to The Cereal and District Athletic Association, All Saints Anglican Church, Box 265 Oyen, AB T0J 2J0
The recording is posted. If you are watching on a cell phone or tablet, you may have to turn your device sideways to see the video.
Also below is a copy of The Waterbug Story. The sound was low during the reading of this.
Down below the surface of a quiet pond lived a little colony of water bugs. They were a happy colony, living far away from the sun. For many months they were very busy, scurrying over the soft mud on the bottom of the pond. They did notice that every once in a while one of their colony seemed to lose interest in going about with its friends. Clinging to the stem of a pond lily, it gradually moved out of sight and was seen no more.
"Look" said one of the water bugs to another. "One of our colony is climbing the lily stalk. Where do you suppose he is going?" Up, up, up it went slowly. Even as they watched, the water bug disappeared from sight. Its friends watched, and waited but it didn't return. "That's funny!" said one water bug to another. "Wasn't he happy here?" asked a second water bug. "Where do you suppose he went?" wondered a third. No one had an answer. They were greatly puzzled. Finally one of the water bugs, a leader in the colony, gathered its friends together "I have an idea. The next one of us who climbs up the lily stalk must promise to come back and tell us where he went and why." "We promise," they said solemnly.
One spring day, not long after, the very water bug who had suggested the plan found himself climbing up the lily stalk. Up, up, up he went. Before he knew what was happening, he had broken through the surface of the water, and fallen on to a broad, green lily pad above. When he awoke, he looked about with surprise. He couldn't believe what he saw. A startling change had come to his old body. His movement revealed four silver wings and a long tail. Even as he struggled, he felt an impulse to move his wings. The warmth of the sun soon dried the moisture from the new body. He moved his wings again and suddenly found himself up above the water. He had become a dragonfly. Swooping and dipping in great curves he flew through the air. He felt exhilarated in the new atmosphere.
By and by, the new dragonfly landed happily on a lily pad to rest. Then it was that he chanced to look below to the bottom of the pond. Why, he was right above his old friends the water bugs. There they were scurrying about, just as he had been doing some time before. Then the dragonfly remembered the promise: The next one of us who climbs up the lily stalk will come back and tell where he went and why. Without thinking, the dragonfly darted down. Suddenly he hit the surface of the water and bounced away. Now that he was a dragonfly, he could no longer go into the water.
"I can't return" he said in dismay "At least I tried, but I can't keep my promise. Even if I could go back, none of the water bugs would know me in my new body. I guess I'll just have to wait until they become Dragonflies too. Then they will understand what happened to me, and where I went" And the Dragonfly flew off happily into its wonderful new world of sun and air.


Share Your Memory of
Frederick

MacLean's Funeral Home
114 1st Ave E
Oyen, AB
T0J 2J0