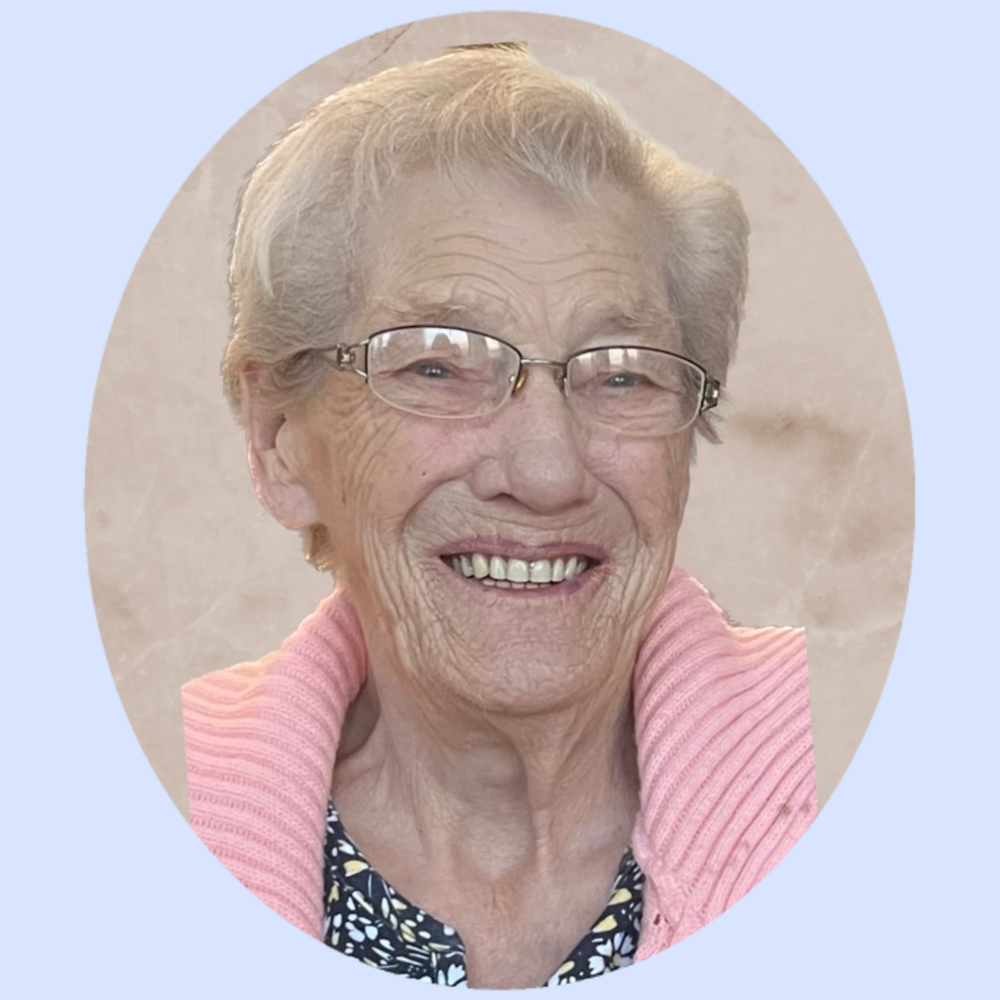 Obituary of Alice Yake
Alice passed away peacefully surrounded by family with her favorite songs being played on her
beloved husband's guitar on February 1, 2023. She was born April 23, 1931 in Mendham
Saskatchewan to John and Emma Stolz. She was the third of eight children; her siblings Emil,
Walter, Edna, Lorraine, Harvey, Adeline and Frank. Alice grew up on the original farm near
Bindloss where she attended school at Forks School until she went to work as an assistant cook
for the construction crew of the Empress Bridge. She began work housekeeping for various
families in the Bindloss area. It was this career that took her to work for the Percy and Helen
Carroll family at Cappon. It was here that she met the love of her life, Raymond Yake at a local
Cappon dance.
Alice and Raymond were married February 4th, 1952 in Empress. They began their life together
on the original Yake homestead. The homestead was also the original Cappon post office.
Raymond and Alice welcomed Coral in 1952, Penny in 1954 and were surprised with Perry in
1964. Alice was so proud when she and Raymond purchased the Big Stone School building and
worked to create it into their new home and moved to the current Yakerage in 1967.
Alice and Raymond began driving school buses in 1963 Alice was so much more than a school
bus driver. Over the 33 years she drove the bus, many of those students have claimed that she
was like a second mother to them. The feeling was mutual and Alice always treated each of
these children as her own.
Over the years Alice loved many things, the top of these being socializing at any Cappon
functions, gardening and flowers, sewing and crocheting and puzzles. She was well known for
her baking and wedding cake decorating. She loved to curl and watch curling. Alice was a
pitcher and first base for the Cappon Ladies Fastball Team. She had one heck of an arm and
you felt it when you caught a ball she threw. She loved music and dancing, especially listening
to her most special family members behind the instruments. She had an innate ability to make
things grow. She designed and planted all the trees around the Yakerage. Alice and Raymond
over the years attended many rodeos all over the country where they made many new friends
and famous friends who treasured their company.
Alice was a hard worker. She worked her entire life and was a woman of many skills. She said
you can fix anything as long as you have duct tape and WD-40. She applied many of these
skills on the farm working alongside Raymond, feeding the harvest crews or driving a tractor. It
never mattered what was needed, she was always creative with what she had and she would
get any job done
Alice's home was a safe haven and vacation for all of her grandkids. It was not uncommon that
every holiday her home was filled with grandkids who all adored her. Alice enjoyed many times
with her grandkids and great grandkids through the years. It is safe to say she holds a special
place in all of their hearts, young and old.
In the summer of 2022 Alice moved to the Oyen Long Term Care where she adapted and then
thrived alongside old neighbors and new friends. She was able to continue her love of puzzles
and was often found at the puzzle table with Gertie Kuzmiski, playing Bingo or sitting by the
piano listening to Walter play. She quickly made the long term care her home and often called it
her community. She shared her love and was well loved by fellow residents and staff.
Alice was known for her quick wit and sense of humor. She loved a good cigarette and a shot of
white rum. She told it how it was but it was always wrapped in sweetness.
Alice was predeceased by her husband Raymond (2004), brothers Emil, Walter, Harvey, Frank
Stolz and sister Edna Koch; sister in law Ella Stolz; brother in laws Edward Koch, Pete
McCullough and Leo Neamtu.
She leaves to cherish her memory her three children; Coral (Diane), Penny, Perry (Denise); her
eight grandchildren; Raelynn Howe (Neal), Jordan Yake, Wyatt Yake (Kelly); Jessie Slater, Ben
Schuler; Amanda Yake-Kovitch (Shaune), Clinton Yake (Corina), Kayla Yake (Jesse); her
nineteen great grandchildren Emma, Rylee, Jade, Waylon Howe; Paxton, Jayce and Adalynn
Yake; Megan and Asher Yake; Raymond, Johnny and Lilac Slater; Bella, Liam and Scarlett
Kovitch; Sterling and Lennon Yake; Araya and Alice Edison; her sisters Lorraine McCullough and Adeline Neantu, as well as many nieces and nephews.
Alice's family was the most important thing in her life and she will be deeply missed by all who knew
her. As a family we want to send Alice off with her own infamous quote, "This is F*&*ing
Bull*&%$!".
A Celebration of Alice's life will be held at the Cappon Hall in the Summer.


Share Your Memory of
Alice

MacLean's Funeral Home
114 1st Ave E
Oyen, AB
T0J 2J0