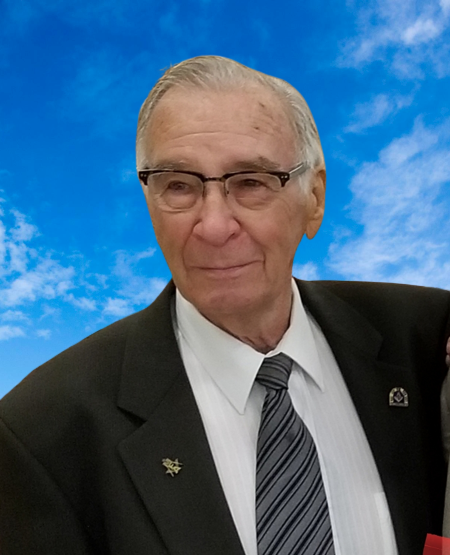 Obituary of Harry Scheuer
It is with heavy hearts that we announce the passing of our beloved father, devoted husband, grandfather, great-grandfather and great-great-grandfather. He passed away peacefully in the Big Country Hospital Long Term Care in Oyen at the age of 87 years, joining the love of his life Doreen in heaven.
Harry was born on July 10, 1935 on the farm north of Southey, Saskatchewan the fifth child of seven born to Jacob and Magdalena Scheuer. After high school, Harry moved to Weyburn, Saskatchewan and soon started work at the Weyburn Mental Hospital. It was at the hospital that Harry met Doreen Rempel, while she was taking psych nursing. They were married in Weyburn on April 29, 1957 and enjoyed 63 years devoted to each other. Their first children Donna and Lily were born in Weyburn. Doreen and Harry moved to Calgary once Doreen completed her degree, where Harry ran a small grocery store across from the Salvation Army in downtown Calgary while also working nights at Safeway. Their two sons, Garth and Mark were born in Calgary, completing their family.
In 1963, during a December blizzard they moved to Oyen to run their store, H & H Red and White Groceteria in partnership with his brother Howard. In 1974 they built their new much larger store called H & H Tomboy Foods, later on they went on to build the Home Hardware Store and the Tumbleweed Restaurant. Harry truly enjoyed working in the Tomboy store, he never missed a chance to visit with the customers, pinch babies cheeks and hand out soft ice cream cones. He was happiest when it was busy, he would whistle while he worked and loved it when the floors were waxed and shiny, and the displays of produce and meat were properly aligned and well stocked. In his spare time Harry worked on appliances and refrigeration, a job that kept him busy well into retirement.
Harry really loved to visit and have coffee with people, so it was no surprise when he retired and there was a steady stream of friends and family coming through their house. Doreen always had the coffee on and fresh baking ready for these visits, as many as 6 times a day.
Harry was a proud member of the Oyen Masonic Lodge (Crocus) #82 and the Serenity Chapter #113 Order of the Eastern Star.
Left to cherish is memory are his daughter Donna Scheuer, and her sons Dustin, Duncan (Jenny) and step-son David along with her grand-children Alex, Josh, Aubrey, Wesley, Austin, Summer and Zander; his daughter Lily (Clinton) Steinley and their sons Jason (Marisa), Chris (Jen) and their grand-children Sidnee (Brandon), Jake, Milo, Elliot and Everett, great-grandchildren Wren and River; his son Garth (Connie) and his son Mark.
Harry was predeceased by his loving wife Doreen, his parents Jacob and Magdalena, his brother Edmund, his sisters Frieda, Lydia (Leta) and Elenora (Sally) and his nephew Brant Ross