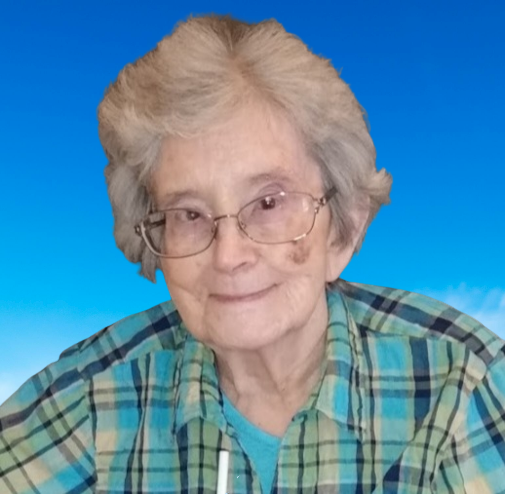 Obituary of Jean Ella Dziuba
Jean Ella Dziuba
Born: March 16, 1927 in Youngstown, Alberta
To Earl and Ella Sutherland
Died: September 29, 2022 in Oyen, Alberta
Predeceased by: Brother George and sister May, husband John, children Pauline, Jerry, Tim, and Bruce and grandson Landry.
Survived by: Children Larry, Felix, Valerie, Francis and Pat along with 19 grand, 22 great grandchildren, with 2 more on the way.
Our loving mom grew up on her parent's small farming homestead near Scotfield Alberta. It was a tough life but there was always love. Mom's chores lead to great appreciation of all living things. That included the horses, milk cow, chickens, dogs and wild birds. Flowers were also one of her favorites.
Mom was very quiet but her love could be seen through hugs, her poetry, stories and drawings. She started writing, under a pen name, in her teenage years. Mom would, at times, send away favorite poems to be published in books. This continued for decades whenever she could find a quiet moment. Mom's excellent cooking was another way of showing her love. And, she always had a captive audience who loved to eat!
Mom always had a good sense of humor. It was likely influenced by her big brother who always included her in his new tricks, games and fun photographs. Does anyone remember the "Dog Days Coming" photo set into a newspaper article? Hilarious! Mom also liked to read during quiet times of the day. Her favorites were short real life stories of romance and mystery – often found in Readers Digest.
Our family started when Dad married the beautiful "farmer's daughter" from next door. The farming life continued for a short time followed by a move to Youngstown where railroad section crew work began. From there, our family life continued in Benton and then finally settled in Oyen. Mom may have been small in physical stature but she was a gentle giant to us – her children. A mother of nine – Wow! How strong do you have to be to take that on? How much love can one person have to share? Mom was gentle, kind, quiet and loving to us all. She was very strong.
Growing up, we kids were always underfoot and mostly in the kitchen. It and Mom made up the centre of our universe. She was a beautiful human being. We will dearly miss her but never forget her.
At the request of the family. The funeral service is private.
Donations can be directed to a charity of donor's choosing.


Share Your Memory of
Jean

MacLean's Funeral Home
114 1st Ave E
Oyen, AB
T0J 2J0