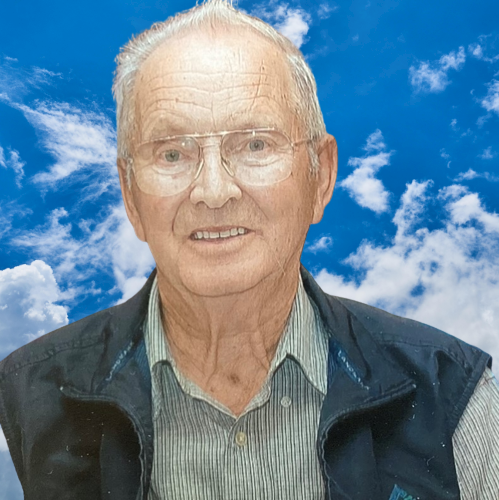 Obituary of Bill Wiste
William Leroy Wiste (Bill)
Bill was born in Manitoba April 28, 1928. As a small boy they moved to Glendon AB where his mother Edith remarried and had 3 more children, Raymond, Sonja, and Arne. Bill worked on the family farm, as well as logging with horses and milling lumber. It was hard work for a boy not yet in his teens. He had great respect and love for their horses, Bruce and Riley, and the 3 of them were a great team. He told many stories of the hardships of life "in the north country". In 1947 the family moved to Loverna SK where Bill worked in their family owned Monarch Garage. He moved to Calgary as a young man and found the love of his life, Bernice Baum. They married in 1950 and returned to Loverna for a short time, later returning to Calgary where he joined the Calgary Police Service. Their only child Brenda was born in 1957. Bill thrived on the camaraderie of the people he worked with, the connections he made with the community and often told stories of the enjoyable times spent with these people. He retired in 1984 at the rank of Staff Sgt. Throughout Bill's life he acquired, worked on and enjoyed many unique, collectable cars, which was a love passed onto his daughter Brenda. They spent many hours together working in the garage, Bill passing on his knowledge to her.
After retirement Bill and Bernice purchased a grand old house, barn, and large property in Loverna, which became their beloved home. Bernice spent several years meticulously restoring the house while Bill, using his vast knowledge, made a well-functioning and enjoyable acreage. They planted hundreds of trees and shrubs and had a huge garden, Bill hauling water to ensure success. Together, Bill and Bernice created a beautiful home and property.
Bill and Bernice spent many winters getting away from the frigid prairie weather in California, then southern BC, until Bernice became incapacitated with dementia. Bill looked after her as long as he was able, then, reluctantly placed her in a wonderful care home in Eatonia, an hour and a half away. He visited her often sometimes staying overnight in their campervan, all while looking after their home and property. Bill was heartbroken to be alone without Bernice. In May 2019 Bernice passed away. Bill remained in their beloved home and was able to look after himself and their property, driving the one hour to get groceries and supplies up until just after his 94th birthday, when his tired heart began to fail. Bill was very frustrated that he couldn't keep doing all the things that needed to be done as he was still the same driven, independent man he'd always been.
Bill spent his last 2 months in and out of Oyen hospital with his devoted daughter Brenda by his side daily. In his final 2 weeks he moved to Eatonia Oasis Living where Bernice had also received outstanding care. Bill passed quietly the morning of Aug 10, 2022.
A small family service was held Aug 14 in Loverna where Bernice's ashes were placed in his arms for eternity.
He leaves behind his loving daughter Brenda Goodwin (Dale Kallhood), grandson Dale Goodwin (Miranda Skjel) and granddaughter Jesse Goodwin.
Many thanks to Bill's brother Raymond and wife Sheila for the many "Come for supper!"s and support since Bernice passed.
Also thank you to the kind staff of Oyen hospital, and especially Dr P. Muller.
Thank you to the loving, caring staff at Eatonia Oasis Living.
And thank you to all the many people who touched Bill's life.
In lieu of flowers, donations to Eatonia Oasis Living would be graciously accepted.


Share Your Memory of
Bill

MacLean's Funeral Home
114 1st Ave E
Oyen, AB
T0J 2J0