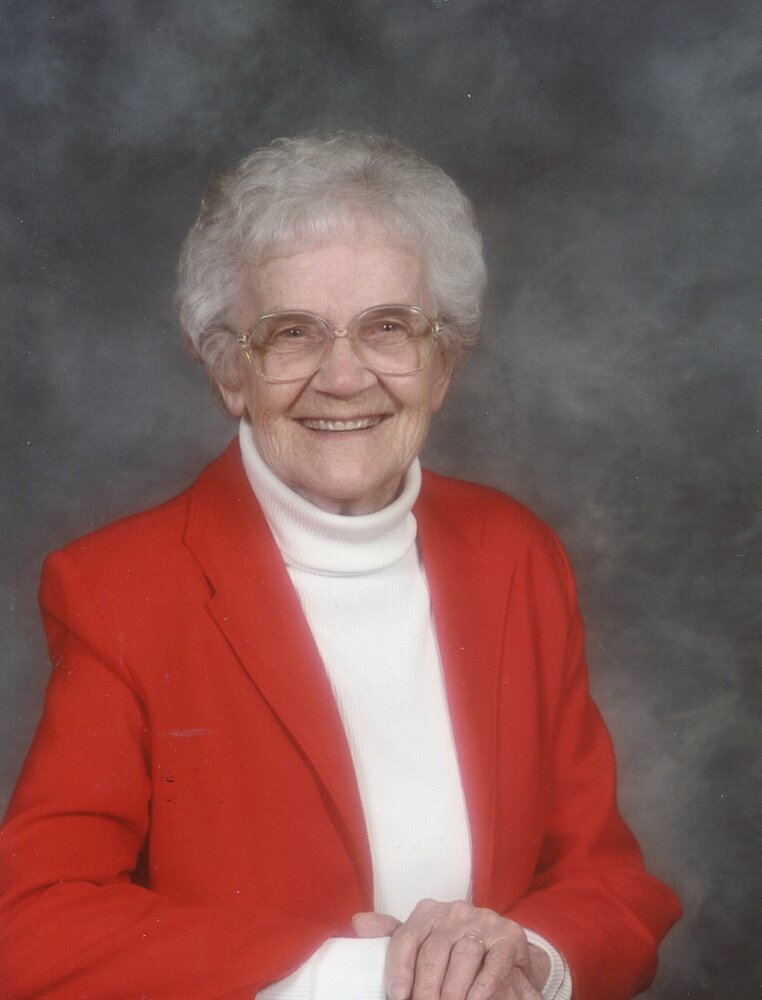 Obituary of Violet Mary Smith
I, Violet Mary (Jacobs) Smith, was born October 13, 1920 at the Jacobs' family farm in Saltcouts district, Saskatchewan, the 4th child of Amos and Margaret (Lingfield) Jacobs. My siblings were: William, Annie, Henry John, Amilia, and twin brothers who passed at birth. My grandparents were Edwin & Elizabeth (Wiseman) Jacobs and John & Eliza (Hopkins) Lingfield.
At 4 years of age, I moved with my family to the Meadowvale School District #175. Once I completed grade IX, I set out at age 14 to work as a hired girl. I worked for 7 years in Saskatchewan and Manitoba, until I met and married Lloyd Smith on June 29, 1942.
Dec 8, 1942, Lloyd joined the army. May 22, 1943, we celebrated the arrival of our little angel Darlene. She received her wings July 19, 1943. Following Lloyd's discharge from the army due to medical reasons we moved to Yorkton, Sask. This is where we raised our 6 children: Vern (1944), Loraine (1945), Elaine (1948), Lorne (1949), Lucille (1954) and Sheldon (1957). In 1959 we moved to Shellbrook, Sask., where we were blessed with Roxi-Lynn in 1962. God blessed me with my 7 children from 14 pregnancies, guiding my precious babies home in His tender loving care.
In 1988 we moved to Alsask Saskatchewan Retirement Village, and I began working at Lovey's Restaurant, on highways 9 & 41 by Oyen, Alberta, as a dishwasher. I then went to work at the Robinson Store (which became Bargain Store) in Oyen. I continued to work there until I turned 77 years old. My employment expanded to kitchen manager at the Oyen Curling Rink until my young age of 80 years, where I proudly ran the kitchen so I could have a front row seat to watch my favourite sport of curling.
I cherished my school days where I received high percentages in Music, Latin, Arithmetic and Spelling. At school I loved playing games like: StarBoy, Prisoner's Base, PomPom Pull Away, Blindman's Bluff and Softball where I played 3rd base without a glove. I loved to bat, running and winning against other districts in the next schools. I looked forward to numerous community events like dancing, square dancing, badminton, C.C.F nights, CGIT, Shellbrook Saskatchewan Hospital Auxiliary, but most of all I cherished my church events. I took Bible study courses by correspondence through 100 Huntley, receiving my certificate. I enjoyed teaching Sunday School, Explorers, CGIT and I was truly blessed to teach Bible study at the Shellbrook Nursing Home, as well as home Bible studies. My church life was very important to me. I never missed a service unless due to ill health.
I loved baking, enjoyed doing my housework, gardening and entertaining. I enjoyed helping others, including housing boarders like the 4 young men in Yorkton and 4 young girls in Shellbrook. I was pleased that all my friends and my children's friends were able to share many meals in my home. My hobbies were sewing, knitting, crocheting, embroidery and finally doing art which I started in my 90's while living in Oyen Auxiliary.
I would like to thank Dr Muller for amazing support and compassionate care—The entire Shields family for love, support and Christian faith—Rita Wonnenberg, whom I loved and thought of as a daughter—My numerous brothers and sisters in Christ, our shared faith will guide us home—Peter, Jeanette & Maria, my adopted grandchildren who always showed me love and respect—The caring staff in Long Term Care who saw to my needs (you know who you are, I love you for taking extra time to make me feel special!) —My compassionate and caring rocks, Roxi-Lynn and Kerry, you are my true angels on earth and I will forever hold you in my heart and prayers—All those who took time to talk to me, who shared a kind word with me, smiled and laughed with me, you have all truly blessed my life—Pastors Dennis & Brad, I thank you for your pure faith and dedication to Christ our Lord. May God guide you as you preside over my memorial and use your pulpit to comfort my family and friends during their time of loss. May you speak God's healing over His children and a blessing into the lives.
To anyone with an open wound, I pray God's healing upon you.
With all my love I will await for you in Heaven
Love always, Vi
Vi was called to her heavenly home May 2, 2022. She was predeceased by Lloyd, daughters Darlene & Elaine, daughters-in-laws Alayne & Kim Smith, sons-in-law John Ure & Don Ahlquist, great-grandchildren James Neudurf & Dawn Neudurf.
Vi is survived by children: Vern & Robin Smith, Loraine Ure, son-in-law Gordon Grimes, Lorne & Annette Smith, Lucille Ahlquist, Sheldon Smith, Roxi-Lynn & Kerry Kuhlbergs (d.2023) as well as 13 grandchildren and numerous great-grandchildren and great-great-grandchildren.
If you chose to make a donation please consider:
Oyen Long Term Care Patient Fund Box 1 Oyen, AB T0J2J0
Oyen Evangelical Missionary Church Box 423 Oyen, AB T0J2J0