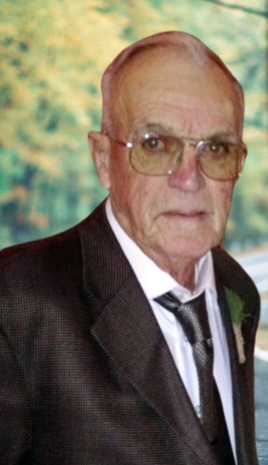 Obituary of Edward James Rice
Edward James Rice
June 2, 1934 - September 26, 2023
Ed was born June 2, 1934 on the farm south of Wawanesa. He was the eldest of four boys born to Jim
and Pearl Rice. He passed away on September 26, 2023 at Oyen Long Term Care.
Ed married Gwen Brown on May 30, 1964 in Wawanesa and became a proud father of three young
children, Wendy, Shelley, and Tim. Ed farmed a section of land owned by his Aunt Celia Stephens and
drove a school bus. They bought a house in Wawanesa and two daughters were born, Dawne and Lori, to complete their family of five.
In October 1970 they moved to Cereal where they operated the Gulf Service Station for six years, giving
this up to go into business for themselves. Ed owned and operated four water trucks, hauling water to
and from the gas and oil wells in the Cereal area. Ed and Gwen retired in 1989. Ed now had more time
to enjoy his favourite hobbies that included hunting and tending to a tremendous garden every year.
Ed & Gwen also enjoyed many holidays, that included winters in Arizona, a winter in British Columbia
and trips to Europe. Travelling to Manitoba to visit family was always a top priority, and they made
several trips every year. They also followed grandchildren all over Canada and United States supporting
them in sports by being the proudest cheering section in the crowd.
For 20+ years Ed was a proud member of the Royal Canadian Legion.
Life as he knew it changed in 2012 when he lost Gwen, his wife of 48 years. He did his very best to carry
on and manage a house and yard on his own. In July 2015, when it became more than he could handle,
he moved to the Cereal Country Cottages. In May 2018, he moved to the lodge in Consort, where he
was closer to a few more conveniences. After the Covid crisis, he couldn't wait to move
back to the Cottages in Cereal where everything was familiar and felt normal. In July of 2022 he was
ready once again to move. This time to the Lodge in Oyen, where he knew his children and
grandchildren could easily come to visit, and then to Long Term Care this August. At each one of his
new homes he made many friends, but nothing was the same without Gwen by his side.
Predeceased by:
Wife: Gwen (2012), Parents: Jim Rice (1988), Pearl Rice (1989), Brothers: Del Rice (1993), Ron Rice (2014), Clark Rice (2015), Nephew: Billy Rice (1993), Niece: Lynn Swyrba (2004), Great Nephew: John Rice (2022), Sisters-in-Law: Shirley Rice (1998), Vivian Warkentin (2003), Gail MacKay (2005), Brothers-in-Law: Fred Henderson (2001), Bob MacKay (2022)
Survived By:
Children: Wendy (Carl) Dziatkewich, Shelley Brown, Tim Brown (Nelda Langier), Dawne (Kent) Beaudoin, Lori (James) Ford, Grandchildren: Stacy (Darcy) Sorensen, Brandon (Kim) Dziatkewich, Cole Dziatkewich (Toby Clark), Ashton (Wyatt) Laughlin, Chase (Chelsea) Dziatkewich, Travis (Tracy) Clow, Trista Clow, Trevor Brown, Kari Hall, Curtis (Ashley) Beaudoin, Tenille (Kelby) Stevens, Tyson Ford, Sierra Ford, Great Grandchildren: Kruz and Jagr Sorensen, Carter, Warren and Kendall Dziatkewich, Kaizley and Ryatt Laughlin, Calum Dziatkewich, Reid, Hayden and Kinley Clow, Theoren and Tayves Brown, Leah and Raya Hall, Jack and Halle Beaudoin, Beau Stevens, Sisters-in-Law: Noreen Rice, Margaret Graham, Betty Henderson as well as Numerous Nephews and Nieces
Memorial Tributes:
Royal Canadian Legion, Big Country Hospital, Joel Toth Memorial Fund or to a charity of your choice.
Following a private family graveside service, family and friends are invited to a Celebration of Life and memorial luncheon hosted by Lori Toth at the C.J. Peacock Centre starting at 2:00 p.m. on Thursday October 5, 2023.