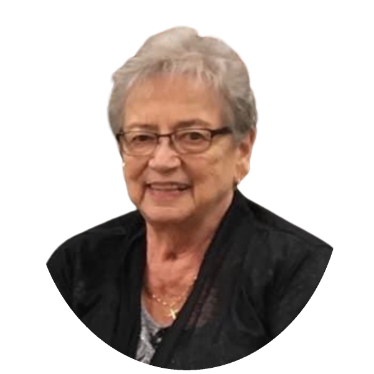 Prayer Service
7:00 pm - 8:00 pm
Wednesday, May 3, 2023
St. Mary's Roman Catholic Church
Acadia Valley
Acadia Valley, Alberta, Canada
Prayer Service for Freddi Skappak

Get Directions
Mass Of Christian Burial
2:00 pm
Thursday, May 4, 2023
St. Mary's Roman Catholic Church
Acadia Valley
Acadia Valley, Alberta, Canada
Funeral Mass for the late Freddi Skappak

Get Directions


Obituary of Fredena Joan Skappak
Fredena (Freddi) Joan Skappak (née Craig) was born November 4, 1940 in Yarmouth Nova Scotia to Michael and Marion Craig.
It was soon after that the entire family was relocated by the Royal Canadian Air Force to Edmonton Alberta. Freddi completed her schooling in various locations around Alberta and Graduated Grade 12 at Strathcona Composite High in Edmonton.
Later she proceeded to get her Degree as a Lab / X-ray Technician at college in Edmonton. After graduation (1960) she was placed as the 1st Lab/X-ray technician in Oyen Alberta where she was tasked with setting up the entire Lab Unit reporting to Dr. James McCracken.
It was later that year when she met the love of her life Wally Skappak where they had there first date on Friday May 13, 1960, they were Married July 08, 1961. After she was married the " city girl" moved to the farm where a whole new set of life skills were needed. Ie Milking cows, driving trucks, gardening and the likes.
They were blessed with 2 Sons Michael 1963 and Terry 1965.
Through the years she loved entertaining, camping, fishing and many an evening socializing with Family and Friends playing cards. Her Faith was of utmost importance to her, she so enjoyed the celebrations of Christmas and Easter.
While raising her boys she taught Ceramics, worked at the Extended Care Big Country Hospital and later Managed the Oyen Lodge for 10 years.
She was so proud of her Grand Children and extremely proud that she lived long enough to see her Great Grandchildren.
When her health deteriorated she became a resident of Oyen Extended Care. She was so grateful for the superb heath care provided by all levels of the facilities staff. The months spent there made her appreciate the importance of her new family and friends.
She is survived by her Husband (Wally)of 61+ years, Sons Michael (Cary), Terry (Judy), Grandchildren Craig (Darcy) , Kaitlyn (Matt), Levi, Lindsay, (Cole)Tristan, Ryley (Amanda), Blake (Mindy). Great Grandchildren Zoey, Ryan, Lincoln, Brielle, Maryon.
She was pre- deceased by Mike and Maryon (Parents), Alec Bugyi (Step Father), Nick (Katherine) Skappak (Mother and Father in-law) and numerous other family members.


Share Your Memory of
Fredena

MacLean's Funeral Home
114 1st Ave E
Oyen, AB
T0J 2J0