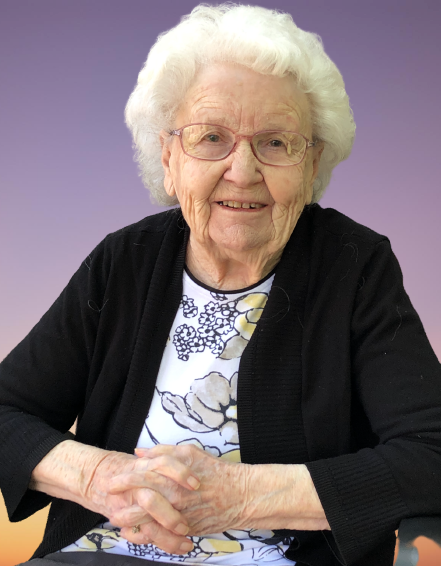 Celebration of Life
11:30 am
Wednesday, April 12, 2023
Oyen Senior Rec Centre
216 2nd St. W
Oyen, Alberta, Canada
Celebrating the life of the late Patricia Clampitt

Get Directions


Obituary of Patricia Jean Clampitt
Patricia (Pat) Martin was born on January 22, 1930 in Oyen. She passed away peacefully at the age of 93 on January 31, 2023 at the Big Country Long Term Care in Oyen, Alberta.
Pat grew up on a farm south of Oyen and attended school in Oyen. She resided at the dormitory (the old Legion Hall) and completed her High School education.
Pat was married to Philip Clampitt on June 26, 1953. Following their wedding the happy couple moved to Woodrow Saskatchewan to begin farming. Sadly shortly after their move Pat's father, Stanley Martin passed away and the young couple packed up and moved back to Oyen to take over the Martin Family Farm. It was here they set their roots and raised six children - Barry, Brenda, Brian, Brent, Beverly and Blaine.
Pat was kept busy on the farm raising her family, cooking, cleaning and helping out wherever she was needed. In 1972 she went to work at the TD bank in Oyen where she stayed for the next 20 years before retiring in 1992.
Some of Pat's favorit past time activities included gardening, quilting, baking and taking ceramic classes. She loved to listen and dance to old time music and especially enjoyed listening to Phil play his saxophone. Pat also loved to travel and went on many trips over the years including Las Vegas, San Diego California, Cancun Mexico, the Maritimes and Nashville Tennessee to name a few. Most of these trips she enjoyed travelling with her daughter Brenda. Pat also travelled around BC and Alberta with a group of her lady friends (Eva Anderson, Anne Goodine, Marguerite Sanderson) where they explored different small towns and attended various Fairs and Festivals.
In 1979 Pat and Phil retired from farming and moved into a home in Oyen. Pat enjoyed the shorter commute to work and getting to know her neighbours.
In 2009 Pat sold her home and moved into the Seniors Lodge in Oyen and was lucky to be one of the first residents to enjoy the newly built Lodge. Pat enjoyed her time at the Lodge visiting with all the residents and the many visitors who stopped by and especially enjoyed having all her needs met by the wonderful staff who worked there. In January of 2020 Pat moved to the Long Term Care at the Hospital and resided there until her passing.
Pat is survived by her children; Barry (Laura) Clampitt, Brian (Christine) Clampitt, Brent (Grazyna) Clampitt, Bev (Paul) Lijdsman and Blaine (Candice) Clampitt. 17 grandchildren and 24 great grandchildren the newest one Flint John Lijdsman born on January 26, 2023.
Pat was predeceased by her husband Philip in 1983, parents Stanley and Ruby Martin, brother Fred Martin, sister Marguerite Sanderson and daughter Brenda Clampitt 2014.
Wednesday April 12th
Celebration of life following at the Seniors Rec Centre at 1130 am
Due to unforseen circumstances, the graveside service is postponed, however, the celebration is still at 1130 am


Share Your Memory of
Patricia

MacLean's Funeral Home
114 1st Ave E
Oyen, AB
T0J 2J0