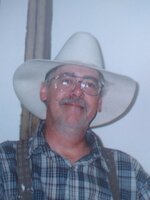 Wade Whitney Delano
Wade Whitney DeLano of Sibbald AB, passed away on December 11 2022 at the age of 66 years.
Wade is survived by brother Morgan DeLano sister Denise Forbes and their families.
The family would like to acknowledge the many acts of kindness and compassion Wade had received by community members, the RCMP and Alberta Health Services along with Maclean's Funeral Home and many local businesses and services that were so helpful during his time of illness.
Celebration of life will be held at a later date.
Memorial Donations can be directed to a charity of donor's choice.